New! Updated Automatic Transmission Kits. Check it out here!
We appreciate our customers and love to show of their trikes. When you purchase your parts from Possum Pride Trike Bodies you become a special part of our circle of friends. We care about you and strive to give you excellent service before, during and after the sale.
Let us know what you are looking for. Many of the items shown on this site are customizable to your exact specifications. We want to help you build the Trike of your dreams.
This is our Featued Trike. It is an award winning trike built by
the owner of Possum Pride for the love of his life.
John Faglie
Dale Carey
Mario's Trike
Hugh Graham
Ron Greer
David Devault
Richard Stephen
Amos Zapata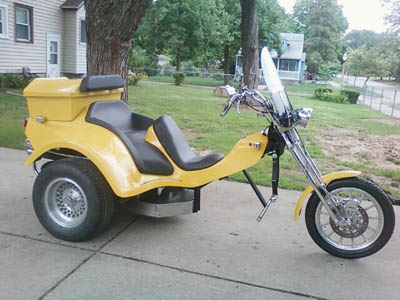 Gerald Freese-Forsyth, Mo
David Carr-Springfield, Mo
Jerry-Springfield, Mo
Bill-Wisconsin
Ron Lichlyter
Richard Stephen, Bangor, Pennsylvania
Richard Jennings
Gary's New Travel Box-West Plains, Missouri
Gary's New Travel Box-West Plains, Missouri
Melvin Nulph Jr.